AlphaWorld
ScaRabia
SwCityTour
HappyValley
SWCITY
Une importante région ou "cité" dans
AlphaWorld
:
C'est à la fois une entité "géographique et urbanistique" , liée à la construction virtuelle , mais aussi une entité de fiction liée à un aspect de "jeu multijoueur " , qui relie plus particulièrement les principaux citoyens actifs dans cette zone d' Alphaworld
Site Web consacré à cette région :
http://www.swcity.net/www/maps.php
Contrairement à ce qu'on pourrait croire , "SW" ne désigne pas les coordonnées "Sud et Ouest" du monde
AlphaWorld
( en effet SWcity se trouve en fait dans le quart SUD-EST de ce monde ) :
Sur la signification controversée des deux initiales SW : Il semble que cela soit lié à
ScarabWarriors
?
, parce que les premiers créateurs de SWcity étaient des habitués d'un jeu nommé "Scarab" .
( Voir :
http://wiki.activeworlds.com/index.php?title=SW_City
)
Carte sur
AlphaMapper
:
http://www.imabot.com/alphamapper/aw/?location=2086.4S_4297.6E&zoom=6
Sans avoir jamais été participant de l' histoire de SWcity , il se trouve que j'ai quelques traces "matérielles" dans ses environs :
Confluent nord-est Astroh :
http://www.imabot.com/alphamapper/aw/?location=1235.2S_4933.2E&zoom=9
---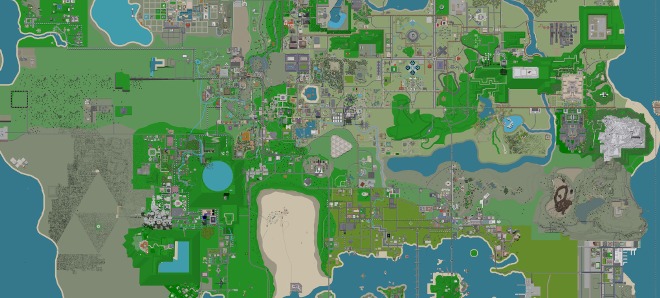 SWIKI :
http://www.swcity.net/pmwiki/pmwiki.php
SW City FORUM :
http://www.swcity.net/yabbse/
SW City : Forum Members :
http://www.swcity.net/yabbse/index.php?action=mlist
---
Begin your Interactive Adventure
With the Interactive system, you can participate in numerous quests that have been setup around the vast territory of SW City. Explore a deep, dangerous cave in search of a lost city.
Discover the mysterious past of a haunted forest. Play detective to locate a kidnapped person. This is only a fraction of the types of quests you can participate in with SW City Interactive.
While you are questing or just exploring, you will come across many unique and even strange creatures which will assist you in your journey. They will provide you with vital inventory and knowledge to help you build up your user profile and succeed in Interactive. The inventory that you collect will be stored in your inventory listing which is accessible through Scarabian User Terminals (SUTs). These terminals are dotted all over the city are are very easy to find.
You will also come across hundreds of unique environments which range in all categories you can imagine. Deep forests, windy deserts, dank caves, harsh arctic climate. You name it, it's there.
Where to Start?
The best place to begin your adventure in SW City would be the Interactive Headquarters at Town Square Park (location information below). It contains all the information you need to begin, as well as direct teleports to some quests.
It even contains information on how to start your collection of Swiki Cards, the wildly popular cards that can be gained as reward for completing quests and tasks for characters around the city. For more information on Swiki Cards, talk to the Swiki Card consultant at the Interactive Headquarters.
Important Teleports and Resources
Here is a list of important teleports and resources that you should use to make your Interactive experience more enjoyable.
SW City Town Square Park: AW 2217s 3609e (teleport link)
SW City Interactive Headquarters: AW 2212S 3615E (teleport link)
SW City Website (www.swcity.net): Regular news and updates posted about SW City and Interactive.
SWiki - The SW City Encyclopedia (wiki.swcity.net): Learn about the city's geography, wildlife, plantlife and history (to name a few) in this comprehensive wiki.
If you would like a more detailed introduction to SW City Interactive, you can visit the website at interactive.swcity.net. We are pleased you signed up and we can't wait to see you in SW City!
---